I'm here to edit your HTML and CSS website files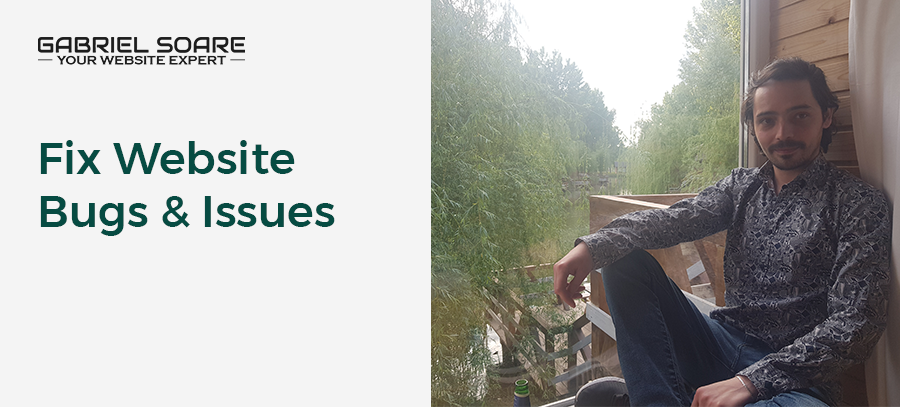 But what about HTML developer that is also a graphic designer?
Then look no further of course, and consider working with me. I can work with custom HTML, Wordpres, and Shopify websites.
Besides website edits and fixes, I can also assist your business by creating custom banner ads and other relevant marketing materials. But let's not oversell it.
I edit websites and apply fixes where needed. Message me to get started.
Was the above not enough of a pitch?
Feel free to email me with your inquiry (please detail the website edit/fix/error), and I will ge back to you ASAP with a quote.
While a quick edit (such as editing footer side, font size) can be a flat fee to some agencies at $50.
I can apply 4-7 HTML/CSS modifications for the same amount an agency would charge you.
100% money back gurantee if I don't edit, or accomplish the task.
You don't have to pay me before
I can send previews of how it would, and we process the order only after confrimation.
The below might answer some FAQ questions, and for the sake of making the article more relevant to search engines, hopefully:
How can a freelance web dev & graphic designer help you?
Bring more value to your customers by having a reliable, error-less website. I will fix & edit any HTML, WordPress or Shopify website issues and repair bugs quickly— send me a message and expect a timely answer.
Does your website is not working as expected? HTML & CSS issues are bugging you? I will repair & fix your website issues in a professional and timely manner.
Are you having a website problem and looking for professional help? You've landed on the right page!
Lets fix your website today.
If HTML & CSS bugs or other website related issues are giving you a hard time, my experience might come in handy. I will assist by fixing your website issues & bugs quickly.
Get started today by hiring a professional web programmer. Send me a message and expect quick replies, fair prices and timely project deliveries.
What kind of website issues can you fix?
I can address a variety of web related inquiries— ranging from design related bugs— to SEO structure and WCAG compliancy.
If you have a website, the following services might be of interest to you:
Fix HTML/CSS/JS/PHP website issues
Fix custom HTML, WordPress & Shopify issue
Fix Bootstrap layout, fix Google map
Newsletter, contact form issue fix
Resolve newsletter or custom contact form not sdenging
Debug errors and fix bugs
Fix responsiveness issues
404 error, invalid SSL
& more.
I can work with custom HTML, WordPress and Shopify websites. For other websites, such as the ones based on Wix— you can still contact me, to migrate it.
Lets repair your website today!
Why my website repair services?
I can be your one-stop website service. Besides website fixes, I can also improve loading speed, handle technical SEO related issues and create other relevant & compliant marketing assets.
No business is too big or small. I'm offering my services to everybody— ranging from individuals and SMBs— to large enterprises such as Microsoft or Marvel.
I have over 1000 reviews of projects which I successfully delivered. I feel confident that I can have a solution for any web-related problem. I will do my best to do an accurate, free quote based on your requirements.
Easy working process. If I don't know how to fix your described issue— I will not waste your time and let you know right away.
Send me a message and detail what you require, its free!
Free extras included:
ASAP Delivery
Quick turnarounds
Unlimited revisions
100% money back if unsuccessful
Smooth & quick working process and communication will be ensured.
Other web related services
Below you can read quick snippets about my other web-related services.
Website customization services
Are you having an outdated HTML website and don't have the time or energy required to upgrade it?
I'll customize any website template and apply custom code to either plain HTML websites, WordPress, and Shopify.
Feel free hire a professional that can customize your website based on your requirements.
WCAG compliant and accessible website
Looking to have a website that is accessible to everyone?
I can design & code a custom HTML website that is loading quickly, has a SEO structure and is accessible to everyone by meeting the Web Content Accessibility Guidelines (WCAG).
Learn more about WCAG and why is it important to have an accessible website.
Need to fix a technical SEO website issue?
Search Engine Optimization can be crucial nowadays. Google is not everything— but it has a good market share. Following their technical recommendations can be helpful in terms of organic ranking and accessibility.
I can improve your business website relevancy by fixing technical SEO related issues. I don't have a dedicated page for this yet, feel free to contact me directly through the contact page.
Reference prices for website repair services
Please note that the below list is a reference. The cost may depend based on the complexity involved. Contact me for a free quote.
Quick website problem fix
One relatively easy edit/fix (change font size/color/placement, background)

€ 20

Five relatively easy edits

€ 80
Not-so-quick website fix
Ensuring that the website is SSL secured

€ 50

Newsletter signup error

€ 50

Contact form debug & fix

from € 50

Fix technical SEO related issues

from € 50
Custom or complex website modifications and fixes
Send me a message to discuss your project.
Frequently asked questions
I can empower your business by:
Creating a professional website
Setting the brand identity
Designing various marketing materials
Providing RPA solutions

Ready to start? Get in touch using the below options.
Start a chat using the bottom right icon.
---
Email me at helloz1zgabrielsoare.com for quick responses.
Trusted by: