Freelance Contractor
Gabriel Soare
Website Development, Graphic Design, Web Services & Customization.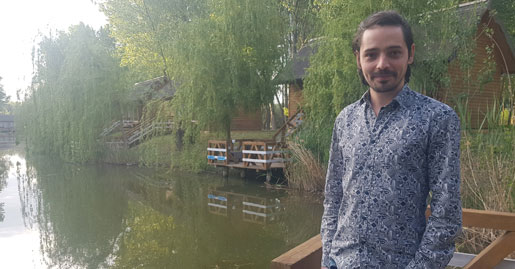 Short brief
I'm a full-time freelance web developer and graphic designer enjoying to create websites and to design various marketing assets.
For the past few years, I've been working exclusively remote — providing web services to businesses of any size, no matter where you are located.
With over 7 years hand-on experience working with multiple marketing departments & individuals I've understood that a strong online presence is a necessity in today's world.
"website developers near me" era is gone — no matter where you are from, you can contact me and expect quick turnarounds at fair prices.
Let's bring your project to life!
Top notch web services
Whether you are looking for a small onepage website, a corporate WordPress website or a custom HTML business website — I have the solutions tailored to your needs.
I enjoy working on all kind of multimedia and print campaigns, I am capable of following corporate guidelines as well as generate new ideas that will work for your business niche.
Have a custom request? Contact me and let's get started.
Quality website services that my clients appreciate
Along the way I had the pleasure to work with great people and gained more than 1000 positive reviews, some of which I will list below:
★ ★ ★ ★ ★
Gabriel was great. Answered every question I threw at him. Very responsive and helpful. The best thing is that he will continue to help you after the project is completed as well to ensure you are happy until your site is fully functional and to your standards. I'll continue to work with Gabriel on this project along with any future ones needed.
– Alain Dang
★ ★ ★ ★ ★
We needed a special code for conversion optimization on our store and Gabriel has been able to deliver exactly what we've asked for! We wanted a customization that we saw on another website and Gabriel replicated it perfectly. We needed a tiny revision here and there before final delivery, but all was good as Gabriel solved any issue in a speedy manner and he's a great communicator. I definitely recommend his services and I'll be happy to work with him in the future again. :)
– MCS Creations
★ ★ ★ ★ ★
I had a website that needed some CSS for mobile nav to make it show properly and Gabriel Soare responded quickly to my request, sent a quote and completed the project within a few hours. Would work with again!
– Isaac Kiehl
★ ★ ★ ★ ★
Everything was done as expected and to a very high quality, I would recommend to anyone needing support with CSS and HTML. He was super super fast with his turnaround and his communication was excellent. I also really appreciate his patience with delays from my side, he was understanding and completed everything as expected. Thank you! I will be coming back in future.
– TMD UK
★ ★ ★ ★ ★
5 Stars! Great experience with this seller. He made the changes so quickly and it was just perfect. Just what I wanted. I look forward to working together again.
– CupCakesCandy
★ ★ ★ ★ ★
Soare Gabriel is very professional and highly skilled. He is great communicating with me every step of the way and he is helpful when I have questions about my website. I will definitely use him again for my company.
– Tina Lerouge
★ ★ ★ ★ ★
Gabriel was excellent to work with. He was very willing to help us resolve issues and made our site look professional and engaging. He was also willing to work on a very tight deadline and be available to respond to our many questions and ideas. We're thrilled with the results and would absolutely recommend him and his work.
– Caroe Thompson
I can empower your business by:
Creating a professional website
Setting the brand identity
Designing various marketing materials
Providing RPA solutions

Ready to start? Get in touch using the below options.
Start a chat using the bottom right icon.
---
Email me at helloz1zgabrielsoare.com for quick responses.
Trusted by: