I will fix, edit & customize your website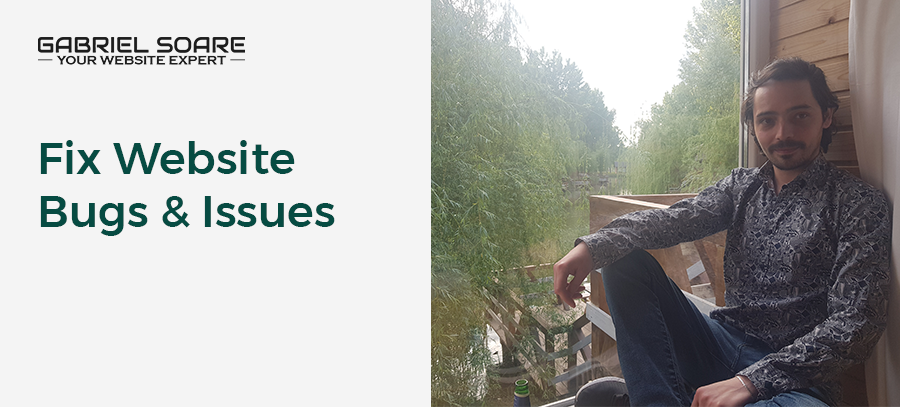 Are you looking to fix a web-related problem or to customize your website? You've landed on the right page!
Fix website HTML CSS bugs and issues
Does your website is not working as expected? HTML & CSS issues are bugging you? I will repair & fix your website issues in a professional and timely manner.
Lets fix your website today.
If HTML & CSS bugs or other website related issues are giving you a hard time, my experience might come in handy. I will assist by fixing your website issues & bugs quickly.
Quick turnarounds are always ensured. Get started today by hiring a professional web programmer.
Customize website & apply custom code
Do you need a new feature created for your HTML, Shopify or WordPress website? My website customization services may be the solution.
Looking to fix a WordPress issue? Your Shopify store requires customizations? I will bring your website to the next level by adjusting & customizing its layout through custom coding.
If you have a website, the following services might be of interest to you:
Fix HTML/CSS/JS/PHP website issues
Creation of custom pages & sections
Custom code & theme customizations
Website adjustments, layout modifications
Fix custom HTML, WordPress & Shopify issue
Fix Bootstrap layout, fix Google map
Popup & cookie consent implementation
Custom integrations (e.g. Live Chat, Analytics)
Implementation of newsletter, contact form
Newsletter, contact form issue fix
Creation of newsletter or custom contact form
Debug errors and fix bugs
Fix responsiveness issues
& more.
Do you need to have a new custom section or webpage? Message me and lets get started.
I'll customize any website template and apply custom code to either plain HTML websites, WordPress, and Shopify.
Get your website customized & have your HTML/CSS bugs fixed in shortest time!
HTML website modifications & fix issues
Are you having an outdated HTML website and don't have the time or energy required to upgrade it?
I can assist by customizing your website source code & by applying custom code changes.
Whether you are looking to have a new feature added, a new section, or a new custom page – I have the solution. Send me an email with the requirements and I will get back to you shortly.
Need a custom Landing Page?
I can code a custom HTML web page that is loading quickly, has a SEO structure and is accessible to everyone by meeting the Web Content Accessibility Guidelines (WCAG).
Learn more about WCAG and why is it important to have an accessible website.
WordPress website customizations
Are you looking for a professional that can manage your WordPress website?
I can be your web programmer and handle your WordPress related requests– from simple edits to complex customizations.
Are you unhappy with your current loading speed, or perhaps need to migrate your website to a new hosting? A stable and secure website is essential in today's world.
404 error? Invalid SSL? Contact form not working?
These errors can have a huge negative effect on your website visitors and should be addressed ASAP.
Lets improve your website today!
Shopify store customizations
Is your Shopify converting too few sales?
Engaging your visitors on the product pages and providing a smooth & clean checkout process can do wonders.
Need a custom section, or a brand new webpage? Contact me and lets get started!
Why my web programming services?
I will do my best to provide highest quality in shortest time possible.
I can be your one-stop website service. Besides website customizations, I can also improve its loading speed, handle technical SEO related issues & create other relevant marketing assets.
The code I create is manually written and easy maintanable.
Free Extras Included:
ASAP Delivery
Quick turnarounds
Unlimited revisions
100% money back if unsuccessful
Smooth & quick working process and communication will be ensured.
Reference prices related to website customization
Quick website edits or customization
One relatively easy edit/fix (change font size/color/placement, background)

€ 10

Five relatively easy edits

€ 40
Not-so-quick website customization
Chat option

€ 50

Google Analytics implementation

€ 30

Setting up Google Search Console

€ 30

Sitemap/robots implementation

€ 25

Ensuring that the website is SSL secured

€ 50

Newsletter signup

€ 50

Custom pop-up elements and animations

from € 50

Adjusting your web page based on your requirements

from € 50

Custom contact form or newsletter signup

from € 50

Fix SEO related issues

from € 50

Creation of a new web page or section, based on your requirements

from € 150
Custom or complex website modifications and fixes
Send me a message to discuss your project.
Frequently asked questions
I can empower your business by:
Creating a professional website
Setting the brand identity
Designing various marketing materials
Providing RPA solutions

Ready to start? Get in touch using the below options.
Start a chat using the bottom right icon.
---
Email me at helloz1zgabrielsoare.com for quick responses.
Trusted by: